| Home | Founder's Message | Expert Instruction | Courses | Application | Newsletter | Other Links


The only Four Weapons Combat Master in existence prior to 1993, Chuck Taylor earned his title in March of 1981 by being the first man in the world to successfully complete the near impossible course of fire using iron-sighted, unmodified pistol, shotgun, rifle, and submachine gun.

The Master's Master as he is respectfully referred to by the thousands of students he has trained over the years, Chuck Taylor began his combat weapons training in the military, where he earned EXPERT ratings with the M-1911 .45 pistol; M-1, M-14, and M-16 rifles; M-60 machine gun and M-79 40mm grenade launcher.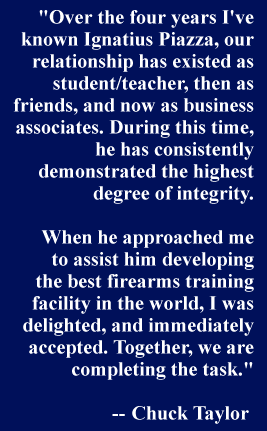 Airborne, Air-Assault, and RANGER qualified, Chuck Taylor's decorated combat tours left him with the real-world, tactical perspective of those who have spilled blood in battle. Chuck added to his wealth of experience by training Special Operations units in the United States, Europe, Africa, Latin America and the Philippines as well as law enforcement and military personnel from over 100 agencies including SWAT, Counter-Terrorism, and the Tactical Response Teams for three consecutive Olympic Games.

Known as one of the best trainers in the world, Chuck Taylor's training techniques are in use internationally. Most recently, his Handgun and Assault Rifle techniques were formally adopted by the Swiss Army.

An experienced Big-Game hunter in North America and Africa, Chuck holds a dozen record animals acquired with rifle and handgun.

Chuck Taylor has written over 1000 articles dealing with Weapons and Tactics, Wound Ballistics, Special Operations and Big-Game Hunting. He has authored three books: The Complete Book of Combat Handgunning, The Fighting Rifle, and The Combat Shotgun and Submachine Gun. Chuck Taylor is one of a select few. A man who has distinguished himself as a world-class author, lecturer, hunter, competitor, soldier, and instructor.

Front Sight Firearms Training Institute welcomes you to train with Chuck Taylor, the Master's Master.
| Home | Founder's Message | Expert Instruction | Courses | Application | Newsletter | Other Links
---
Heeled | Memberships | Miscellaneous | Newsletter | Press | Student prep | Training Reports | Website | Search