This Makes My Heart Bleed …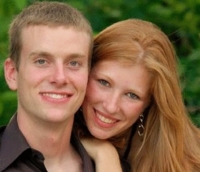 Josh and Alaina Beasley Take a look at this picture.
A beautiful, young married couple … bright-eyed, in love … the world was theirs for the taking.
Well, one of them is now dead and the other's life will never be the same …
Their story is a real tragedy that could have, should have, and would have been avoided had either one ever read a Front Sight Dry Practice Manual.
I wrote the manual, first and foremost to protect you from such unnecessary heartbreak and second to provide you with the proper drills and procedures to improve your skills at home without the need for ammunition or a firing range. I just wish this lovely couple had learned about my Dry Practice Manuals before it was too late …
Read the story below. I'm sure your heart will bleed with mine. Then make sure you don't allow the same thing to happen to you or anyone you love.
Court records: Husband shot wife during intruder game
BY LESLIE REED
WORLD-HERALD BUREAU
LINCOLN — On Thursday, Joshua Beasley dressed in black to attend the funeral of his wife, Alaina. One day later, the 21-year-old wore jailhouse blues as he stood before a Lancaster County judge to face a felony manslaughter charge in her death.
A police affidavit filed Friday revealed new details about the shooting death of Alaina Beasley, 20, on Jan. 31.
According to the affidavit, Beasley told a police investigator that he had been pretending to clear his home of intruders when he fired the shot that killed his wife of three months.
He said that was something he and his wife had practiced in the past.
Beasley turned himself in to police Friday and was jailed briefly before County Judge James Foster released him without bail Friday afternoon. With his parents and other family and friends watching from the back of the small courtroom, Beasley answered clearly and firmly I do when asked if he understood the charge against him. He looked solemn and tense, his shoulders slightly hunched, as if he were holding himself together.
Afterwards, his parents and other supporters declined to discuss the case, although family and friends have questioned the need to prosecute Beasley, saying that the young man should be forgiven because he already is suffering for his actions.
A veteran prosecutor said criminal charges almost always are justified in even a so-called accidental shooting death.
Sarpy County Attorney Lee Polikov, who heads the Nebraska County Attorney's Association, said that negligence that results in someone's death calls for a manslaughter prosecution.
Forgiveness isn't the job of the prosecutor, he said. It's to hold people accountable for their actions. If you're negligent and harm someone, you have to be held accountable.
According to an affidavit written by Lincoln Police Sgt. Greg Sorensen, Beasley told police that on the day of the shooting he had been working on his 12-gauge shotgun in his living room. He said that he'd been having trouble with the way it ejected shells while using it earlier in the day, according to the affidavit. Family members have said that the couple had been skeet shooting at targets that day.
After he finished working on the gun, he loaded it with three rounds, one in the chamber and two in the magazine.
After putting some things away in his bedroom, he said that he picked up the gun and began to pretend to clear the home of intruders, something he and his wife had practiced in the past.
He rounded the corner into the kitchen, where his wife was standing near the sink. She pointed her hand at him, pretending to have a gun. According to the affidavit, Beasley said he raised the shotgun to his shoulder and fired one round. He said that he had forgotten the gun was loaded.
He said that he threw the gun down, went to assist his wife and called 911.
An autopsy showed Alaina Beasley died of internal injuries caused by a gunshot wound to her upper right chest.
In an interview with The World-Herald, Beasley had said he accidentally shot his wife while cleaning his shotgun.
Joshua Beasley's brother, Dan Beasley, said Friday that the Beasley family couldn't comment on the case.
He has an attorney, and we were told we basically can't say anything, Dan Beasley said.
Alaina Beasley's father, Ron Moore, said that he and his wife, Beth, did not want to further discuss the case.
Polikov said that he thinks most Nebraska prosecutors believe that charges should be filed in nearly all shooting deaths.
A World-Herald review of a dozen unintentional shooting deaths covered by the newspaper since 1985 show that all but five resulted in criminal charges.
One case that did not result in criminal charges involved a 16-year-old boy who shot his 13-year-old cousin; another involved a state trooper killed in a training exercise in 1999. The three remaining cases involved poor gun handling — when a gun went off during a drinking party; when one accidentally fired while someone tried to unload it; and when a man got shot trying to grab a gun.
Polikov said that on occasion there may be extenuating circumstances in which he might not file criminal charges — a hunting accident, perhaps, or an instance where a child playing with a gun kills a family member.
Nonetheless, in most cases, the death results from acts that carry foreseeable danger, he said.
People that own guns should not be negligent in how they are handled, he said.
Polikov said that it's unlikely that someone with a good record would be sent to prison for accidentally shooting someone to death.
Truly, prosecution is not the worst thing the people involved in these incidents have to face, he said. There's the public shame, the remorse and their own consciences. When you measure that against my job, I'm not the bad guy. It (prosecution) is survivable.
World-Herald staff writer Maggie O'Brien contributed to this report.
So if you don't have Front Sight's Dry Practice Manuals here's the link for a special savings and free shipping on the Dry Practice Manuals.
Sincerely,
Dr. Ignatius Piazza
Front Sight Founder and Director
Four-Weapons Combat Master
Your host of Front Sight Challenge Reality TV Series
P.S. Please share this report with your family and friends. If your family and friends would like to receive their own reports, our 12-page brochure, and 90-minute award-winning DVD then please direct them to sign up for Front Sight's Free Gun Training Reports.
P.P.S. If you're looking for the best Front Sight Firearms Training Deals and Offers, then Join the Front Sight Patriots and not only will you will immediately be rewarded with $2,780 in valuable gifts, I will also send you unbelievably great offers each month that you cannot receive anywhere else in the firearms industry.
---