Home | Founder's Message | Monthly Report | Expert Instruction | Courses | Application | Newsletter | Other Links
---

Held on weekends, this exceptional entry level course provides you with the practical skills of the accomplished rifleman.
Upon completion, you will have the ability to quickly and confidently strike center hits from a variety of shooting positions at ranges out to 200 meters. An excellent course for those who initially don't have time for Front Sight's four day course, but want to begin to acquire the skills that tamed the Wild West and won the last World Wars.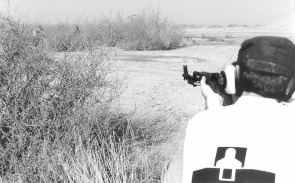 Lecture Topics Include: Deadly Force and the Law; Crisis Management; Mission of the Fighting Rifle; Weapon and Ammunition Selection; Sight Acquisition, Sight Alignment, Sight Picture, and Trigger Control; Carrying Positions including High Ready, Rhodesian Ready, and Low Ready, Field Positions including Offhand, Kneeling, Squat, Sitting, and Prone; Mental Conditioning; and Tactics.
Firing Range Drills Include: Checking Weapon Condition, Loading, and Unloading; Sight Acquisition, Sight Alignment, Sight Picture, and Trigger Control; Rapid Assumption of Field Shooting Positions from varied carrying positions; Target Engagement from 3 to 200 meters under time pressure; Targets at Odd Angles; Small Targets at Close Range; Tactical Reloading; Malfunction Clearing; and Tactical Simulator Introduction.
Weapon, Equipment, and Ammunition Requirements:Any legally owned, bolt-action, pump-action, lever-action, or auto-loading centerfire rifle of .223 caliber or larger that is in safe operating condition with trigger guard intact and sling attached for safe carry. Two spare magazines and holders or equivalent ammunition carriers. Ear and eye protection, knee pads, elbow pads, and hat. 200 rounds of new, factory centerfire ammunition. A spare rifle with sling is highly recommended in the event that your primary firearm breaks during the course.
Cost: $400.00. See Buddy System pricing and save 25%.

Held Friday through Monday, this is a comprehensive course in the practical use of the rifle that will leave law enforcement officers, military personnel, and private citizens alike with the comforting ability to hit what they can see!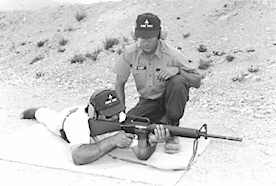 Regardless of your experience prior to entering this course, upon completion you will be able to score first round hits on targets appropriate to your weapon, at unknown distances, from improvised positions, against the clock. In other words, with your rifle in hand, you will control your environment out to distances that you can identify targets. If you desire such skill at arms, then this course is for you.
Lecture, Firing Range Drills, and Ammunition Requirements:As listed in Two Day Practical Rifle course description with an increase to 500 rounds as Day Three and Day Four build your proficiency, marksmanship, and speed of target engagement.
Heavy emphasis on tactical training simulation using reactive steel targets, moving targets, and shoot/no shoot targets in a variety of scenarios.
Course includes Evening Supplemental Lectures with Staff Social, Low Light and Night Shooting, Single Elimination Shoot Off, and Distinguished Graduate Skills Evaluation.
This course is the prerequisite for Front Sight's invitation only Precision Rifle course.
Cost: $800.00. See Buddy System pricing and save 25%.
Home | Founder's Message | Monthly Report | Expert Instruction | Courses | Application | Newsletter | Other Links
---
Heeled | Memberships | Miscellaneous | Newsletter | Press | Student prep | Training Reports | Website | Search