Home | Founder's Message | Monthly Report | Expert Instruction | Courses
Buddy System Pricing | New World-Class Facility | How Good is Good Enough?
Training Dates | Application | Newsletter | Safety/Incident Report | Solution to Littleton, CO Shooting | Other Links
---

Held on weekends, Handgun Skill Builder is the follow-up course for students who have completed the Two-Day or Four-Day Defensive Handgun course. It is an intensified format that will continue to improve your shooting ability and heighten your skills to move comfortably into our Advanced Tactical Handgun courses. An excellent course if you are looking to tune up your skills or work toward a Graduate or Distinguished Graduate certificate but don't have the time to repeat the entire Four Day course.

The entire weekend is spent on the range, as this course has no lecture material or tactical simulators. Emphasis is placed on fine tuning your gun handling and greatly improving your speed and accuracy. You can expect to drastically reduce the time it takes to draw and fire a controlled pair of shots or single, precision shots. All training is done from a concealed holster under time pressure. A skills evaluation is performed at the end of the course for Graduate and Distinguished Graduate certification.

500 rounds of ammunition required.

Cost: $600.00
Held on weekends, this action-packed course is open only to Graduates of Front Sight's Four-Day Defensive Handgun, Handgun Skill Builder or Handgun Combat Master PrepSM courses.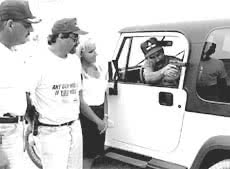 If you understand the importance of keeping your weaponcraft skills sharp, this tactical pistol course is for you! It provides the advanced training needed to keep the law enforcement officer and private citizen highly tuned and ready to handle the most challenging armed encounter.
Range drills focus on Close-Contact Shooting; Moving and Shooting; Moving targets; Cover and Concealment; Shooting from Vehicles; Precision-Distance Shooting; Low Light and Night Shooting.
You will complete seven different live-fire tactical simulators, (three at night) and go head-to-head in live-fire shooting houses against instructors and other students, using Simunitions®. The tactical scenarios change with each course date to keep you in top form with new and challenging scenarios to experience.
600 rounds of ammunition required.
Cost: $700.00
---
> Worried that Your Current Skill Level Might Not
be Appropriate to Attend a Course at Front Sight?
---
Don't worry. Whatever your skills may be right now, Front Sight will give you the personal, one-on-one attention you need to really perfect your accuracy, speed, and gun handling. We assign one instructor for every four-to-five students on the firing line, and you will receive one-on-one instruction in the live-fire tactical simulators. Whether you are new to gun ownership and want to save time and money by learning it right the first time from world recognized experts, or an advanced student reaching for the highest levels of perfection, we will dramatically improve your skills with the very first course!
Any Gun Will Do — If You Will Do.
Home | Founder's Message | Monthly Report | Expert Instruction | Courses | Buddy System Pricing | New World-Class Facility
How Good is Good Enough? | Training Dates | Application | Newsletter | Safety/Incident Report | Solution to Littleton, CO Shooting | Other Links