Home | Founder's Message | Monthly Report | Expert Instruction | Courses
Buddy System Pricing | New World-Class Facility | How Good is Good Enough?
Training Dates | Application | Newsletter | Safety/Incident Report | Solution to Littleton, CO Shooting | Other Links

---

This exceptional entry-level, weekend course provides you with the practical skills of the accomplished rifleman. Upon completion, you will have the ability to quickly strike center hits from a variety of shooting positions at ranges out to 200 yards. If you want to acquire the skills that tamed the Wild West and won the last World Wars, this course is for you.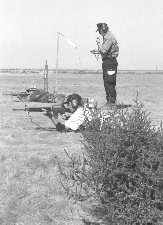 Lecture Topics Include:
Use of Deadly Force and the Law; Color Code of Mental Awareness; Civil Liability; Weapon and Ammunition Selection; Ballistics; Zeroing, Sight Adjustments, Hold Over; and more.
Firing Range Drills Include:
Loading and Unloading; Carrying Positions; Ready Positions; Shooting Stance; Sight Alignment, Sight Picture and Trigger Control; Rapid Assumption of Kneeling, Squat, Sitting, and Prone; Target Engagement from 3 to 200 yards under Time Pressure; Tactical Simulator Introduction; and more.
200 rounds of ammunition required.
Cost: $500.00. See Buddy System pricing and save 25%.

Held Friday through Monday, This is a comprehensive course in the practical use of the rifle that will leave law enforcement officers, military personnel and private citizens with the comforting ability to hit what they can see! Upon completion of the course, you will be able to score center, first-round hits on targets appropriate to your weapon, at unknown distances, from improvised positions, against the clock. With a rifle in your hand, you will be able to control your environment out to distances that you can identify targets. If you desire such ability, we await you.
Lectures Topics and Firing Range Drills:
As listed in the Two-Day course with emphasis on Speed and Accuracy of Target Engagement out to 400 yards. Use of Reactive Steel Targets, in a variety of scenarios.
Course includes Low Light and Night Shooting, Shoot-off, and Distinguished Graduate Skill Evaluation.
500 rounds of ammunition required.
Cost: $1,000.00. See Buddy System pricing and save 25%.
---
Held on weekends, Rifle Skill Builder is the follow-up course for students who have completed the Two-Day or Four-Day Practical Rifle course. It is an intensified format that will continue to improve your shooting ability and heighten your skills to move comfortably into our Advanced Practical or Precision Rifle courses. An excellent course if you are looking to tune up your skills or work toward a Graduate or Distinguished Graduate certificate but don't have the time to repeat the entire Four Day course.
The entire weekend is spent on the range, as this course has no lecture material or tactical simulators. Emphasis is placed on fine tuning your gun handling and greatly improving your speed and accuracy. You can expect to drastically reduce the time it takes to present your weapon from a variety of field positions and deliver first round hits at targets appropriate to your weapon from unknown distances against the clock. A skills evaluation is performed at the end of the course for Graduate and Distinguished Graduate certification.
700 rounds of ammunition required.
Cost: $600.00
---
A four day course held Friday through Monday for those students who have completed the Practical Rifle course and wish to elevate their skills to levels not found anywhere else. Heavy emphasis on application of the AR-15 rifle in the the urban environment. Course covers improvised position shooting, support side shooting, weapon transition, low light, live-fire tactical scenarios with shooting moving targets, shooting on the move, shooting multiple targets, close range precision shooting, and much more.
1500 rounds required.
Cost: $1200.00.
---
A four day course held Friday through Monday for those students who have completed the Practical Rifle course and want to learn the skills required to make first round hits out to 1000 meters! Instruction with a heavy emphasis on marksmanship, position shooting, range and wind estimation, reading mirage, hold-over estimation, dialing proper scope adjustments, use of log book and ballistic cards, and deployment of two man (spotter/shooter) teams. Course requires scoped rifle, binoculars, spotting scope, shooting mat.
500 rounds required.
Cost: $1500.00.
---
> Worried that Your Current Skill Level Might Not
be Appropriate to Attend a Course at Front Sight?
---
Don't worry. Whatever your skills may be right now, Front Sight will give you the personal, one-on-one attention you need to really perfect your accuracy, speed, and gun handling. We assign one instructor for every four-to-five students on the firing line, and you will receive one-on-one instruction in the live-fire tactical simulators. Whether you are new to gun ownership and want to save time and money by learning it right the first time from world recognized experts, or an advanced student reaching for the highest levels of perfection, we will dramatically improve your skills with the very first course!
Any Gun Will Do — If You Will Do.
Home | Founder's Message | Monthly Report | Expert Instruction | Courses | Buddy System Pricing | New World-Class Facility
How Good is Good Enough? | Training Dates | Application | Newsletter | Safety/Incident Report | Solution to Littleton, CO Shooting | Other Links