Home | Founder's Message | Monthly Report | Expert Instruction | Courses
Buddy System Pricing | New "World-Class" Facility | How Good is Good Enough?
Training Dates | Application | Newsletter | Safety/Incident Report | Solution to Littleton, CO Shooting | Other Links
---
Held Friday through Monday, this course is open to all students who hold a Distinguished Graduate certificate from any of Front Sight's handgun courses and desire to master the handgun.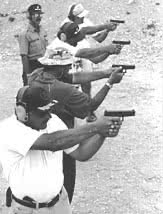 You will reach your highest levels of proficiency through this course as it begins on Day One with an Intermediate Handgun Skills Evaluation, and climbs from there.
Diagnostic dry practice, trigger control, and gun handling drills uncover any flaws in your weapon presentation. Repetitive shooting drills combined with "instructor pacing and modeling" rapidly build your speed, accuracy, and consistency from arm's length out to 50 yards.
Each day ends with a Skills Evaluation of greater difficulty. Day Four culminates with the Handgun Combat Master Test. Certificates are awarded for the highest level you achieve during the course.
Handgun Combat Master certification is the prerequisite for Front Sight's Four Weapons Combat MasterSM certification courses.
1,000 rounds of ammunition required.
Cost: $1,200.00
---
Worried that Your Current Skill Level Might Not
be Appropriate to Attend a Course at Front Sight?
---
Don't worry. Whatever your skills may be right now, Front Sight will give you the personal, one-on-one attention you need to really perfect your accuracy, speed, and gun handling. We assign one instructor for every four-to-five students on the firing line, and you will receive one-on-one instruction in the live-fire tactical simulators. Whether you are new to gun ownership and want to save time and money by learning it right the first time from world recognized experts, or an advanced student reaching for the highest levels of perfection, we will dramatically improve your skills with the very first course!
Any Gun Will Do — If You Will Do.
Home | Founder's Message | Monthly Report | Expert Instruction | Courses | Buddy System Pricing | New "World-Class" Facility
How Good is Good Enough? | Training Dates | Application | Newsletter | Safety/Incident Report | Solution to Littleton, CO Shooting | Other Links
---
Heeled | Memberships | Miscellaneous | Newsletter | Press | Student prep | Training Reports | Website | Search