Home | Founder's Message | Monthly Report | Expert Instruction | Courses
Buddy System Pricing | New "World-Class" Facility | How Good is Good Enough?
Training Dates | Application | Newsletter | Safety/Incident Report | Solution to Littleton, CO Shooting | Other Links
---

Front Sight is fully operational at their new 550 acre site being developed in Las Vegas, Nevada. Every month, Front Sight develops additional improvements and releases additional areas of the future 25 million dollar complex for student use. With just the improvements already completed in Phase 1 of the development, Front Sight has the finest training facilities and target systems available in the world today.
When Phase 1 is completed later this year, Front Sight will be fully state-of-the-art. Included in this site will be 6,000 square feet of classroom; 7,200 square-foot gunsmith facility and armory; pro shop; 5,000 square-foot video training simulator building with the latest video simulator systems; 12 shooting ranges from 25-150 yards; 400-yard rifle range; nine 360-degree live-fire simulators; live-fire, underground training simulator with over 400 yards of tunnels; five story SWAT tower; defensive driving track; and much, much more.
See the schedule for Bakersfield and Las Vegas course dates!
---
(Click on any of the SCALE-MODEL photos on this page for a full-size view of Front Sight's developing facility.)

Phase One of the development includes: Paved road lead to facility and throughout. 6000 square foot classroom and conference area. Pro Shop. Administration building. 7200 square foot armory and gunsmithing facility. 4000 square foot maintenance facility. Gourmet restaurant overlooking desert vistas and lake. 10 training ranges from 25 yards to 400 yards. 8, 360 degree live-fire training simulator ranges. 5000 square foot indoor video training simulator building with multiple simulators. Five story SWAT training tower. Rappelling area. 400 yards of underground tunnels with simulators. Anticipate Grand Opening of Phase One in Fall, 2000.
Phase Two of development includes: Four private training ranges for Front Sight graduates to practice their skills under the supervision of a Front Sight instructor. 900 square yard Celebrity Training Center completely secured for privacy and staffed to serve the needs of Fortune 500 executives, entertainment industry stars, political leaders and their protection teams. 7200 square foot martial arts gymnasium. 1000 yard rifle range. 5000 foot airstrip. Anticipated opening of Phase Two for May, 2001.
Phase Three of development includes: Front Sight Master Planned Community. Gated community of 177 one-acre, luxury home sites, 350 condominiums. Complete Commercial Center serving all the needs of the residential community. Community Center. Private K-12 school. Paved roads, municipal water, sewer system, power and data cable all underground. All amenities anticipated for completion Fall of 2002.

Scale model view of Phase Three lots 1-32 in foreground. Commercial Center, Community Center, and airstrip in the background.

Scale model panoramic view (right to left) of Phase One and Phase Two in background with Phase Three in foreground to the left.

Scale model satellite View of Phase One and Phase Two in lower left of photo and Phase Three in upper right side of photo.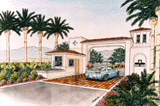 Architectural rendering of the main entrance of the Front Sight facility.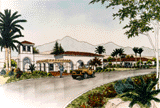 Architectural rendering of Front Sight's classroom building and conference center.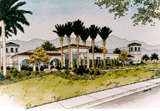 Architectural rendering of Front Sight's gunsmithing facility and armory.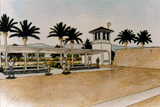 Typical Front Sight range with covered staging area at the rear, with restrooms (two-story building at center of picture.)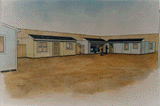 One of many 360 degree live-fire outdoor training simulators.
---
Home | Founder's Message | Monthly Report | Expert Instruction | Courses | Buddy System Pricing | New "World-Class" Facility
How Good is Good Enough? | Training Dates | Application | Newsletter | Safety/Incident Report | Solution to Littleton, CO Shooting | Other Links
---
Heeled | Memberships | Miscellaneous | Newsletter | Press | Student prep | Training Reports | Website | Search